We recently spoke with Eric Zener, a talented and prolific painter out of Sausalito, CA. He has been painting for over 25 years and is best known for his paintings with water as a primary element.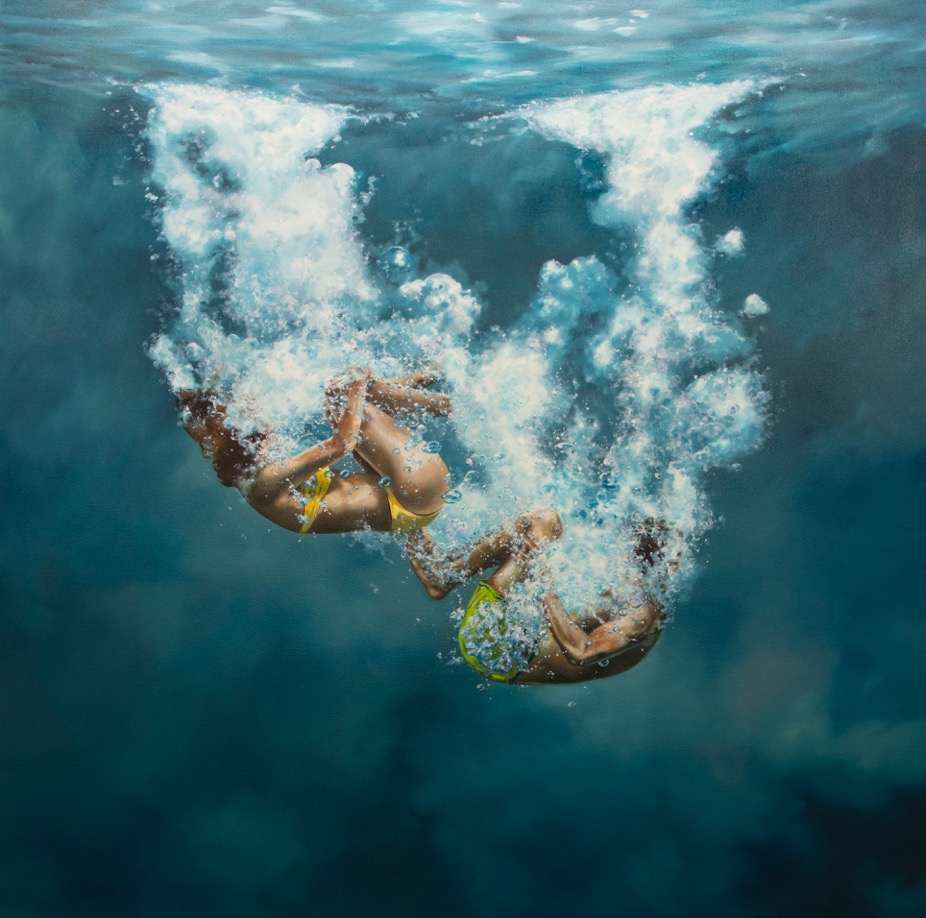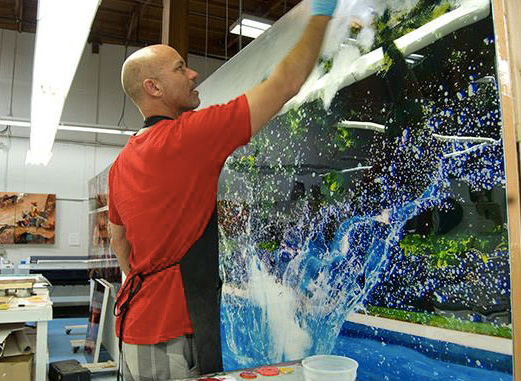 Eric describes his art as realism, but American realism as opposed to photo-realism. His work teases the idea of photo-realism, but when you see his art up close you realize that it is in fact a painting. He also appreciates having evidence of the human hand involved in the art-making process, and tries to mix that with the realistic aspects.
Eric draws a lot of inspiration from nature and its vastness. He appreciates that nature represents something bigger than ourselves: something greater than human society and the mundanity of our day to day lives. He is particularly drawn to water because to Eric, a person floating in water represents an experience in which we ride the razor's edge of pleasure and vulnerability. Water can be a great place for reflection, relaxation, personal escape, and freedom, which Eric tries to incoporate and convey in his work.
Eric begins his creative process by coming up with a series of ideas and sketches. Then, he will capture models in an ocean or swimming pool trying to get the most natural poses and shots. From these photos, he gets a good natural outline of the figure that would be impossible to fake in the studio, and he uses these to create his realistic paintings.
While the paintings are very realistic and detailed, the process is very loose and free, with Eric often painting using 2 hands. Eric doesn't need the paintings to be precisely accurate, it's more about capturing the natural gestures. However, for some of his water photos he does try to be very precise and follow a particular methodoloygy. He describes his painting style like classical music one week and punk rock the next!
Eric has an annual show that he does every Spring season at Gallery Henoch in New York City. The owner of this gallery was an art dealer in New York for over 40 years and Eric has been represented by them for over 20 years. Eric begins preparing in Fall for this show, which happens in May. After that during the summer season, he usually works on other various projects that pop up. In a nutshell, he paints from Fall-Spring then recuperates over the Summer.
While gallery Henoch is Eric's main dealer, he also works with 5-10 other dealers at any given time. So for the most part, the marketing and branding of Eric's work is handled by his dealers. Eric keeps it old school by working with dealers in this way and allowing them to handle the bulk of the marketing for him, including promotion of his annual art show.
However, Eric's website is very active and that's where most people discover him. He tries to always keep his website up-to-date with his latest work. If somebody comes to his website, Eric will engage with them directly depending on what they're looking for, or they will get passed off to whatever dealer is most appropriate for them.
Eric also does a bit of marketing on Instagram, but in general, he spends most of his time painting. He let's his website and art dealers handle the marketing side of things.
Because Eric is not a very high-tech person, his favorite thing about SiteDesignWorks is how easy the whole process has been for him. Any redesigns or changes that he needs to his website appear to happen right away after he asks. He describes his experience with SiteDesignWorks as "effortless", which he appreciates because it allows him to focus on his art.
We hope you enjoyed this story about the talented Eric Zener! Make sure to check out his website here www.ericzener.com.